We believe everyone should enjoy the benefits of good health and wellbeing
On Monday 16 September at 4PM, Anton will be at YMCA North Staffordshire, Stoke-on-Trent to do his first engagement with World Merit.
"I am excited to be joining World Merit on this important mission to promote the United Nations partnership on health and wellbeing and I am looking forward to meeting many of you around the country to continue this important conversation," said Anton Danyluk.
Anton's focus on joining the Villa in 2019 was always to use the experience as the platform he needed to further what he sees as his life's mission, his passion then led to World Merit and their UN partners asking him to take on the role which will give him an even bigger platform.
"Mental health has always been incredibly important to me. If the Love Island experience has taught me one thing, it is that 'mental health' is a term that needs constant working on. So many people are watching our every move and I want to make sure I set a strong example. Talking about and working on your mental health is key in living a healthy life," said Anton Danyluk.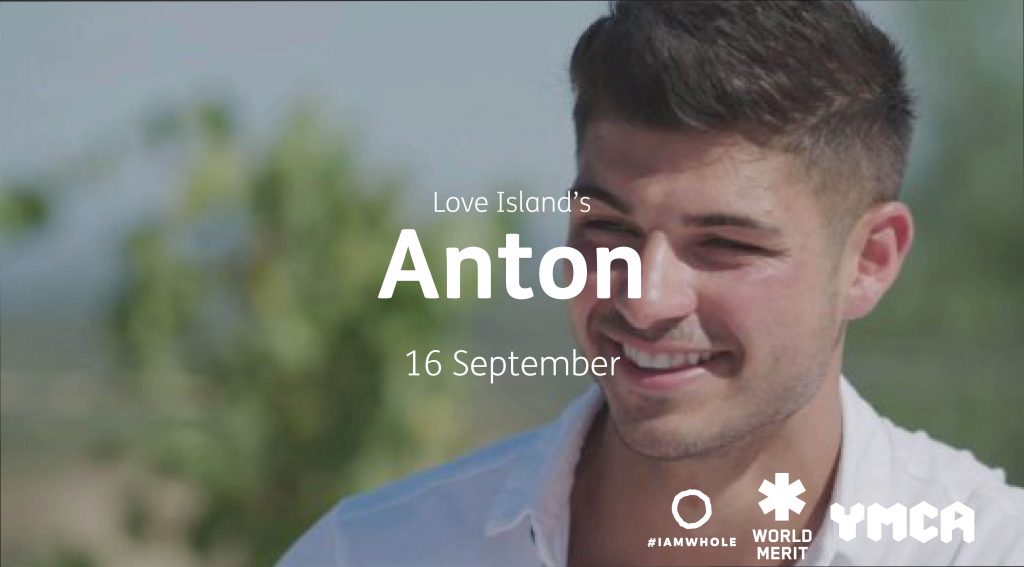 About World Merit –
Please send all successfully printed publications to Lauren and Minhaz. As well as being United Nations partners, World Merit are known for being a truly global youth movement which empowers millennials around the world to come together, providing them the resources and opportunities to tackle social problems in their communities and providing rewards for their work.
"We are incredibly excited to have Anton as our Ambassador for UN SDG3: Good Health and Wellbeing. I have witnessed the work of hundreds of thousands of changemakers across the globe and they all have something in common; a desire to bring positive change to their communities. We strive to reach as many young people as possible to let them know there is this whole community of support available to them as we facilitate an environment to build their confidence and raise their aspirations.
Anton's work fits brilliantly with World Merit and the United Nations' mission to achieve Good Health and Wellbeing across all of the UK and beyond." said Marlou Cornelissen, CEO, World Merit.
#IAMWHOLE
#IAMWHOLE reintroduces WHOLE HOUR for another year, promoting healthy mental wellbeing. This World Mental Health Day, we want people everywhere, to take a WHOLE HOUR for themselves.
With over a month to go, we want people everywhere, to be promoting the ground-breaking #IAMWHOLE anti-stigma mental health campaign, WHOLE HOUR.
On Thursday 10 October 2019, we are encouraging people to take an hour out of their day to do something to support their mental wellbeing. WHOLE HOUR aims to recognise and champion the importance of self-care and taking time to look after your mental health.
The initiative is designed to be simple and replicable so that everyone can participate in WHOLE HOUR. Whether it is doing something active and healthy, creative and fun, mindful and thoughtful, or restful and relaxing, there are a variety of ways you can get involved.
Join the movement 
In order to help us spread WHOLE HOUR as far and wise as possible, we're asking you to get involved in any capacity you can.
This year, we're also promoting an online WHOLE HOUR pledge – we're aiming for over 5,000 people to pledge a WHOLE HOUR to themselves to support their mental wellbeing. The pledge link is: www.ymca.org.uk/wholepledge