There is only one vacancy at the moment, but please keep an eye out on our socials for new and fresh recruitment information.
If you are buzzing with excitement to join Team YMCA now, you can volunteer! Take a look at our volunteer opportunities available here.
Please note, you can apply online below.
SPIP Trainer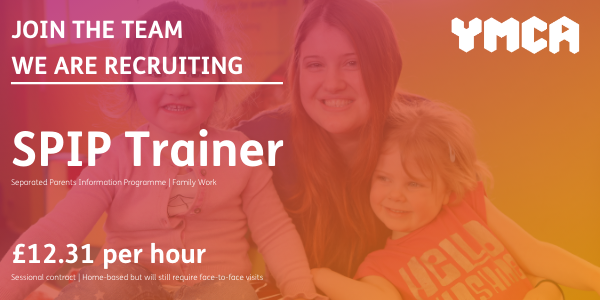 SPIP Trainer Supporting Information
SPIP Trainer
(Separated Parents Information Programme)
Sessional Contract – £12.31 per hour
Location: Home-based but will still require face to face visits
We are seeking a highly motivated individual to join our Family Work Team as a SPIP Trainer.  This is a Court Ordered programme delivered to parents who have struggled to reach agreement over contact arrangements for their child(ren), post-separation. Funded by Cafcass, parents are required to attend a one-off course either face to face or online. Private referrals are also taken.
The successful candidate will have an interest in working with families in conflict, can present programme material in a non-judgemental manner, can engage with group members to ensure all present remain interested and actively participate.  In addition to this, they must have good IT skills, be a good listener and communicator. They should also have the confidence to challenge programme participants.
Experience working with and delivering to adults in a group setting is essential.
This role is subject to an enhanced DBS and reference check.
We are a friendly organisation with a commitment to continuous improvement.  If you think you have the skills for this position we look forward to hearing from you.
Deadline for job applications – 14 December 2020
Important Information
Please send completed application forms to:
If you require further information on our vacancies please contact our HR Department on 01782 222376 (Office hours are Monday – Friday, 9 am – 4 pm)
YMCA North Staffordshire is a Christian organisation, committed to Equality and Diversity in the workplace we are committed to the safeguarding of children, young people, and vulnerable adults.  We are also a safe recruitment Organisation and an Equal Opportunities Employer.  All positions are subject to enhanced DBS checks.
YMCA North Staffordshire is a vibrant place to work, offering opportunities for staff to grow and develop in supportive environments. Everyone who works for YMCA contributes hugely to improving the prospects for vulnerable young people and wider communities.