There are nine amazing job opportunities at the moment, but please keep an eye out on our socials for new and fresh recruitment information.
If you are buzzing with excitement to join Team YMCA now, you can volunteer! Take a look at our volunteer opportunities available here.
Please note, you can apply online below.
Casual Youth Worker (Interests in Sports)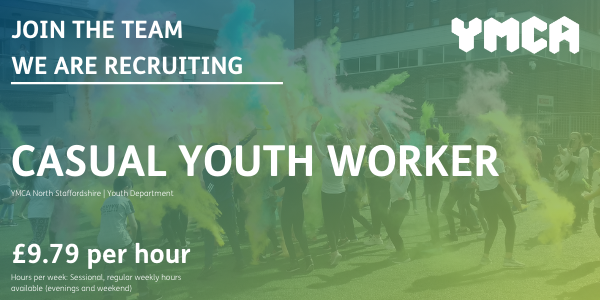 Casual Youth Worker Information
Casual Youth Worker (Interests in Sports)
Fixed Term until February 2024 – £9.79 per hour 
Location: (Hanley, Abbey Hulton, Blurton, West End Stoke, Fegg Hayes Hubb & Kidsgrove)
The ideal candidate will have a level 1 or level 2 sports qualification.  If you can demonstrate the necessary skills, experience and enthusiasm for this position we will invest in you providing training, uniform and support.
A driving licence and an enhanced DBS will be required for this position.
This job vacancy is rolling recruitment, meaning there is not an end date,  but remember to apply quickly before someone else grabs this amazing opportunity.
Important Information
Please send completed application forms to:
If you require further information on our vacancies please contact our HR Department on 01782 222376 (Office hours are Monday – Friday, 9 am – 4 pm)
YMCA North Staffordshire is a Christian organisation, committed to Equality and Diversity in the workplace we are committed to the safeguarding of children, young people, and vulnerable adults.  We are also a safe recruitment Organisation and an Equal Opportunities Employer.  All positions are subject to enhanced DBS checks.
YMCA North Staffordshire is a vibrant place to work, offering opportunities for staff to grow and develop in supportive environments. Everyone who works for YMCA contributes hugely to improving the prospects for vulnerable young people and wider communities.