JOIN THE MOVEMENT ON WORLD MENTAL HEALTH DAY
This World Mental Health Day (Wednesday 10th October), we want people to take a WHOLE HOUR for themselves.
Whether it is doing something active and healthy, creative and fun, mindful and thoughtful, or restful and relaxing, there are a variety of things people can do to make them feel good.
#IAMWHOLE is anti-stigma mental health campaign. The #IAMWHOLE campaign was launched in England & Wales on World Mental Health Day 2016.
Why was the #IAMWHOLE campaign developed?
Now the biggest health concern of a generation, mental health difficulties are costing young people their relationships, education, employment prospects, and without action, their lives.
10-20% of children and young people worldwide experience a mental health difficulty
1 in 2 of all cases of mental health difficulties begin by the age of 14
220,000 children and young people worldwide took their own lives last year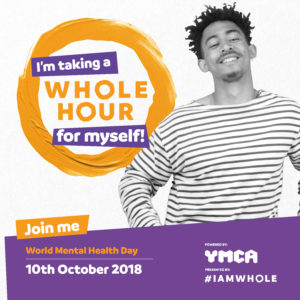 Despite the significant numbers affected and increased public awareness, there is still a stigma surrounding mental health difficulties.
What has the #IAMWHOLE campaign done so far?
During the last two years, the #IAMWHOLE campaign has developed a range of content and resources aimed at tackling mental health stigma, including:
Campaign Videos – Created campaign videos setting out the key campaign messages and calls to action which have been viewed by nearly 600,000 people
Music – Recorded two songs and music videos with well-known musicians on the issue of mental health which have been viewed more than half a million times
Youth-Led Video Content – Produced a range of engaging video content with young people sharing their experiences of mental health difficulties and stigma
Social Media Activation – Encourage people to draw the campaign circle on their hand, take a picture and share this on social media using the #IAMWHOLE hashtag on World Mental Health Day achieving 96 million impressions on Twitter and seven million on Instagram
Celebrity Involvement – Engaged high-profile celebrities from the world of TV, music and sport to help reach a wider audience, including Ed Sheeran and James Corden
Resources – Developed a range of resources to help start conversations about mental health difficulties with young people, including a short story book, parent/carer guide and school pack
Where can I find out more information about #IAMWHOLE?
For more information contact Richard Hughes or Phillippa Lewis at: richard.hughes@ymca.org.uk / phillippa.lewis@ymca.org.uk
More information about the #IAMWHOLE campaign can also be found at: www.whole.org.uk