Stoke City Football Club is to host a special Community Meal at YMCA North Staffordshire, Monday 17 December. This Christmas will be the third time that the local football club has hosted a Community Meal at YMCA having previously hosted back in 2016 & 2017. In 2015, the first-team shot stopper and England international, Jack Butland presented YMCA with a Christmas Tree.
The partnership between Stoke City Football Club and YMCA North Staffordshire has now turned into a festive annual event with the Football Club showing true community spirit during the Christmas period by visiting YMCA in Hanley.
Daniel Flynn, CEO of YMCA North Staffordshire and Stoke City fan praises Stoke City's choice to host another Christmas Community Meal at YMCA. There will be food served, laughter shared, and an opportunity for our young people to meet the players.
Highlights from Stoke City's Community Meal at YMCA in 2017
What's on the menu?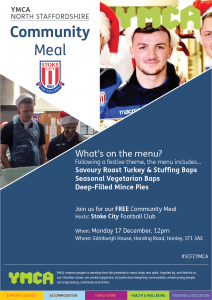 Important Dates:
STOKE CITY v Ipswich Sat 8/12 3 pm
Aston Villa v STOKE CITY Sat 15/12 3 pm
STOKE CITY @ YMCA Mon 17/12 12 pm
STOKE CITY v Millwall Sat 22/12 3 pm